Adults
When:
Thursday, March 11, 2021 - 7:00pm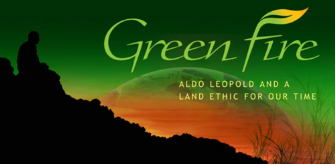 In celebration of the 10th Anniversary of Green Fire, members of the original cast are reuniting to reflect on how the land ethic has evolved since the film first premiered and how we can work together to forget a more inclusive and resilient ethic of care for the decade ahead. Fire up the popcorn machine and get ready for a night of riveting dialogue, nostalgic movie clips and a behind-the-scenes narrative on the past, present and future of conservation through the eyes of the cast. 
     Stream the full-length documentary here.
     Checkout a DVD of Green Fire from the library.
The live, virtual Panel Discussion will be held Thursday, March 11 at 7:00pm.  To attend the panel discusion, register here.
Included in this event is a free copy of the Green Fire Discussion Questions. 
This event is brought to you by The Aldo Leopold Foundation.
When:
Saturday, March 20, 2021 - 9:00am
To register for Let's Get Green and Growing 2021, please follow this link.